Saras Dairy , Bhilwara
Complete Revamping of disturbed Biological System of Dairy Industry using a unique product OGL-Boost(FR) developed by Phycolinc.
Excess fat content in the dairy industry effluent leads to significant problems in the effluent treatment plant in the the downstream process. Saras Dairy is a typical dairy industry plant. When we inspected the effluent treatment plant at Saras, we found the following issues:
Fat content of upto 50 ppm in the outlet effluent.
Inlet COD of 1100 ppm and Outlet COD of 1000 ppm.
Very low MLSS settleability. MLSS color was dark-blackish indicating that MLSS quality was poor.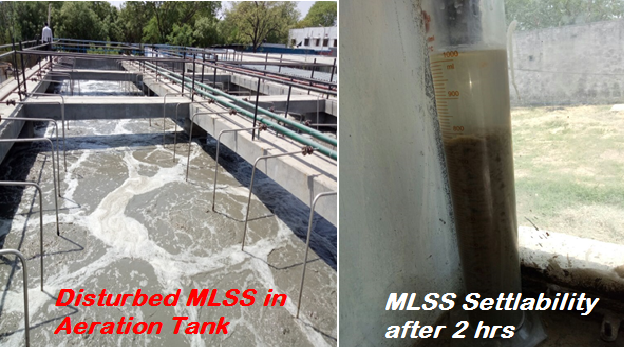 Intervention done by Phycolinc
After extensive research by scientist of Phycolinc, a product OGL-Boost(FR) has been developed to overcome issued faced in the biological system of Dairy Industry Effluent Treatment Plant. The product OGL-Boost(FR) for the dairy industry is a mixture of 21 different ingredients, consisting of minerals, plant extracts and organic additives that can boost fat metabolism of bacteria in the dairy industry effluent biological system, improve MLSS quality and settle-ability and hence improve outlet parameters.
The team have conducted many lab trials with OGL-Boost(FR) in the Dairy Industry Effluent to overcome issues like COD reduction, FAT degradation and improvement in the settlability of MLSS. After successful results of lab trials, we have conducted 15 days trial with OGL-Boost(FR) in Aeration Tank of  Saras Dairy, Bhilwara. The results in the full Scale plant was much better than that of the lab trials.
      1. Excellent Improvement in the Settle-ability
Because the MLSS was not healthy earlier, it has very low settle-ability which was upto 800ml in 2 hrs time. After applying of OGL-Boost(FR) for continuous 15 days, the settle -ability has been improved drastically to 350ml in just 15 minute.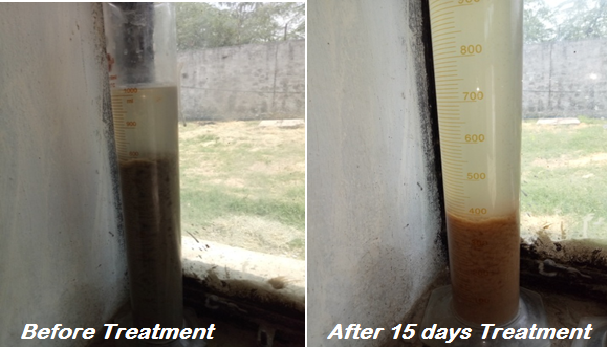 2.Change in Colour of MLSS
Typically, a healthy MLSS of Dairy industry has a brownish colour. Before we have introduces OGL-Boost(FR) in the aeration tank, the MLSS in the tank was almost black and filamentous. But after constant dose of OGL-Boost(FR) for 15 days, the colour of the MLSS has been changed to Brownish which shows good health of MLSS.
      3. Reduction in Key water Parameters
As the OGL-Boost(FR) improves the metabolic activity of bacteria, it results in the improvement of COD and FAT degradation efficiencies. We have taken initial and final results of COD and FAT at the time of treatment and found excellent results in the improvement in degradation efficiencies of bacterial.