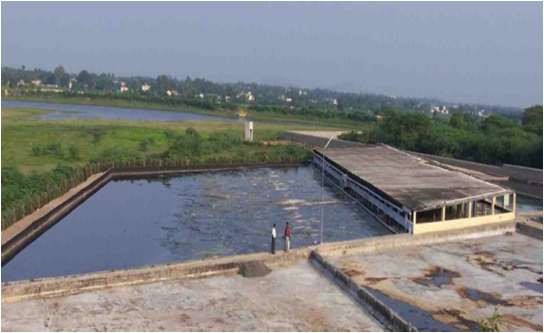 SNAP Alginates Limited
World's first industrial Phyco-remediation plant setup on a highly complex industrial effluent from a chemical industry.
SNAP Alginates Limited
Plot No. 1, Sipcot Industrial Estate, Ranipet, Tamilnadu – 632403
(40 KLD, High TDS Effluent, Zero Liquid Discharge- Full Scale Plant)
This is the first Phycoremediation plant for Industrial Effluent Treatment and also a Profit Making ETP.
Company overview:
SNAP manufactures alginic acid and its various salts from the brown algae Sargassum and Turbinaria which are procured from the Gulf of Mannar, South India. In the industry, seaweeds are treated with mild acid for removal of unwanted salts and then treated with alkali for conversion of alginic acid into sodium alginate. The digested pulp is then diluted and settled and sodium alginate is recovered.
Inlet Effluent parameter:
pH: 1.5 to 1.6
TDS Concentration: 35000 ppm (Avg.)
Flow: 40 KLD
TDS Load: 1400kg/day.
Objective to Treat the Effluent:
To reduce the cost of chemicals required for Neutralization.
To reduce the land area required for evaporation.
To maintain Zero Liquid Discharge.
To reduce TDS sludge generation.
Before Algae Treatment: The client was evaporating 40 KLD high TDS effluent in natural solar evaporation pond of 11000 sq.mt. area and huge quantities of sludge was generated daily after evaporation and pH neutralization process.
After Implementing Micro Algae Technology: The client is currently evaporating same 40 KLD effluents in 4000 sq.mt. Area and the operating cost per KLD evaporation is < Rs 100.
After Treatment by Algae Technology:
pH in Process Tank : 7.5 – 8
Daily Evapotranspiration: 40 KLD or 10 MM/day.
Sludge generation Daily: 500Kg
Additional Benefit to Industry: – Waste to Wealth Generation
As the Algae contain many nutrients, proteins, oils etc., it can be utilized in many applications.
The Company has developed two value added products from the harvested algal biomass and the products are sold at Shrimp Farms in Andhra Pradesh as a shrimp feed and at Tea Gardens as fertilizers.
The company is earning substantial amount from selling the products developed from the algal biomass which is generated from the treatment of the effluent.